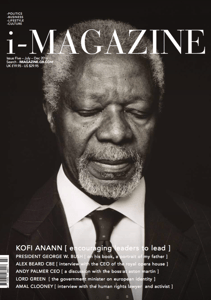 £

19.95 - On Sale
Kofi Annan writes on 'Encouraging Leaders to Lead', Andy Palmer CEO at Aston Martin talks about what 2016 holds for the marque – President George W. Bush writes on themes from his book '41, a Portrait of my Father'.
Government minister and former head at HSBC talks to our Culture Editor Henry Hopwood-Phillips on 'European Identity'. Neil Moffitt CEO of the Hakkasan Group speaks on 'Developing a Luxury Hospitality Brand', there is plenty in this issue to keep you glued to its pages, author Robert Lacey pens 'Model Woman', looking at the career of Eileen Ford, founder of the Ford (modeling) Agency, looking at one of the agencies most famous and long standing models Carmen Dell'Oreffice. We also interview Eric Vallat, CEO at Rémy Martin on how he raised the brands profile and finances after a short fall before his arrival and also how he became involved in the luxury industry.
Mark Sismey-Durrant CEO at Hampshire Trust Bank writes on 'Challenger Banks', as banks who plug gaps in the banking industry by focusing on niche and or specialist areas. David Vincent, Pro Vice Chancellor at the Open University writes on the 'Privacy Paradox', looking at how the arrival of the internet has changed peoples attitudes towards individual and customer privacy, and also with regards as to how we view businesses who deal with personal customer data.
Extracted from the ''Editors Letter'', July-December 2016